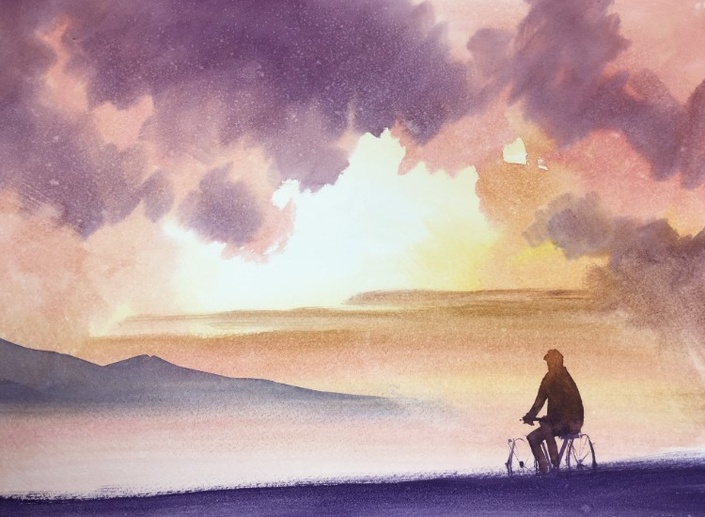 3 Brush course: A fairly easy but thorough watercolor landscape course
Paint beautiful watercolor landscapes with just three brushes and three colors.
This course is for watercolor beginners who really want to improve.

If you just want to play at watercolor that's fine but this course might be too thorough for you. My intention is to turn beginners into master painters - this means lots of practice and challenges. But, of course, the real improvement and joy comes from practice and challenges.

That said, I've tried to make this course a series of baby steps into watercolor so that you never get too overwhelmed or confused. Everything is laid out in a very simple and clear way. And I'm around to give you feedback on your work.
If you are an absolute beginner then I recommend that you do my 1 brush course (which is free) and my 2 brush watercolor course before attempting this one.
So this is how the course will go.
Layout of the course
I've made this course easy to understand and do. So each painting comes with an introduction showing you what you will learn and each painting is done in simple and clear step-by-step stages. Also, each scene comes with a reference image that you can download and print out which will show you exactly what you are painting.
Preparation
First you get a complete list of all the materials you need. This will include a downloadable checklist that has links to dickblick art store so you can quickly order your art materials.
Organized
Then, I'll show you how to set up all your materials. It is critical to arrange your materials correctly. Many beginners layout their materials in an almost thoughtless, haphazard manners - doing so is almost a guarantee for failure. Don't be like that.
Focus
We become masters at something by focusing on one part of it. So rather than introduce you to all the brushes you could use I'm going to show you just 3. And we are going to do some brush exercises that will help you to really get to know these brushes.
In this particular course we are going to focus mostly on using a bamboo brush. I've already done lessons on how to use the two other brushes in my One Brush and Two Brush courses.
Take the time to get to know your brush. Many beginner students struggle simply because they don't know how to use their brushes and you'll never paint a good picture until you really know how to use your brushes and what kind of effects you can create.
The three brushes we'll use in this course are a hake, a bamboo brush and a liner.
And then I'll show you how to mix your paints well and to really get to know your paints. That's why we are only using 3 so that you don't get overwhelmed and so you can focus on using just a few colors. Then you'll really get to know the character of each color. I think you'll be amazed by how many colors you can create with just 3 colors.
A Thorough Course
This is a very thorough course. We are going to paint 11 landscape scenes. So you will learn how to paint a wide variety of scenes, such as rural scenes, city scenes, snow scenes, river scenes and sea scenes. We'll also do lessons on painting figures, cars and boats.
No Drawing Required
Although there is some drawing involved I've also included some downloadable drawings which you can trace over, so if you aren't good at drawing then you can still do this course. I do though recommend you use this course to improve your drawing abilities.
No Creativity Required
You don't have to be naturally creative to begin this course. That is something which will develop with time.
Feedback and encouragement.
You also have the chance to show me your work and get one critical piece of advice from me on your work. You may then have another go (something I always recommend if you want to get better) and then resubmit your work and get one more piece of advice.
Level up
After you've finished it's not the end of the story. You will be able to do the 4 Brush watercolor course and improve your skills even more. At the end of this course, there is one lesson from the 4 Brush course that you can try.
Your Instructor
I am an English man living in Japan. I have been traveling around this interesting and wonderful country painting whatever takes my fancy for 18 years. Mostly, I love to paint landscapes and to capture the atmospheric quality of scenes at a particular moment in time.
Course Curriculum
Preparation
Available in days
days after you enroll
Brushmanship and Color Mixing Exercises
Available in days
days after you enroll
Lesson 1: Let's Paint a Landscape with some Trees.
Available in days
days after you enroll
Frequently Asked Questions
When does the course start and finish?
The course starts when you are ready. Basically, you decide when you start and when you finish.
How long do I have access to the course?
This course should be around for at least 5 years and I'm hoping longer. But it should only take about a month or two to complete it.
What if I am unhappy with the course?
We would never want you to be unhappy! If you are unsatisfied with your purchase, contact us in the first 30 days and we will give you a full refund.